Leading UK Virtual Tour Services
Numerous studies suggest that adding a good quality 360 virtual tour to a website is proven to:
Increase the amount of time users spend interacting with your brand,
Improve organic search rankings and
Boost conversion rates.
It's no secret that during pandemic lockdowns, 360 virtual tours became critically important for property developers, estate agents and the construction industry.
They continue to positively impact sales, research by TwentyCi suggests that properties with a virtual tour benefit from a 19.4% higher conversion rate compared to those listed without one.
In the hospitality industry, a virtual tour on a hotel website increases bookings and look-to-book conversion rates by as much as 16 to 67%, according to research by TIG Global and Omni Hotels.
What is a 360 Virtual Tour?
Sometimes they are referred to as 360 tours, 360 degree virtual tours, 3D tours, video tours, online tours or just Matterport.
Beware of misconceptions though.
There's a distinction between a 360 tour and a 360 virtual tour; the former being a fixed viewpoint that allows the user only a very limited experience of an interior.
And recently, we've even seen some straightforward videos being called 360 virtual tours.
So what is a 'real' 360 virtual tour and what are its characteristics?
360 Virtual Tour Definition
A 360 Virtual Tour is a collection of super high-resolution 360º images of a landscape, facility, building or rooms input into specialist software to be stitched together, edited and augmented into a standalone, fully interactive experience.
The finished product should empower the user, giving them:
Complete control over the viewpoint, to 'move around' and see 360 degrees of any indoor or outdoor space by using keyboard arrows, mouse or fingertips on a screen.
The ability to freely move from place-to-place or room-to-room and interact with information points such as simple text-based messages, audio or video.
Why use Soft-Focus Productions to produce your 360 Video Tour?
We're Soft-Focus Productions, a leading 360 Virtual Tour company based in Warwickshire, UK. We've been producing 360 Virtual Tours across a number of industries since 2011.
Our portfolio of 360 Virtual Tour clients include Warwick Castle, Blenheim Palace, Sanders Senior Living, Herewood College, Aston Martin and many more.
Find out more about all our virtual tour services:
Are you ready to book your 360 Virtual Tour with us?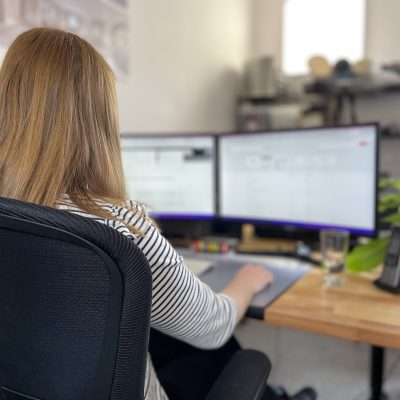 We'll manage the whole process, right from the initial enquiry to the final delivery of your 360 virtual tour.
Need to add your new logo and brand colours before you go live? No problem. Our in-house project manager works closely with clients making schedules and arrangements, and is highly experienced at delivering complex, large-scale projects for big brands.
We're flexible, and realise that sometimes things can change during a project. And at the end of it, we don't just deliver a load of files and let you sort them out. We host the majority of tours on our powerful, secure servers so there's no need to worry about any programming or server capacity.
Superior Technology, High Resolution images
 To capture the raw material for all our 360 VR Tours we use a leading-edge, full-frame mirrorless camera.
This means we can get great detail, even in darker rooms. 
We shoot bracketed High Dynamic Range (HDR) shots that capture the feeling of actually being in the room. 
Each panorama is a combination of 12 individual super high-resolution photos blended together.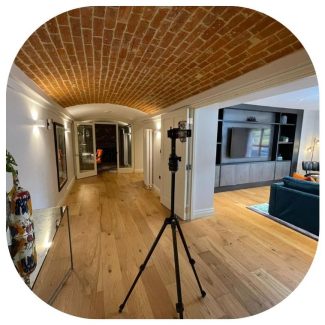 Aerial Drone 360 Virtual Tours
We are fully-licensed drone operators, A2 CofC (A2 Certificate of Competency), meaning that we can also capture stunning aerial 360 virtual tours too.
Imagine the impact you can make when taking a user on a journey from a vast outside space into an intimate room.
They're especially useful for stately homes with large gardens, festivals and large hotels.
They are also popular with clients wanting to showcase and impress with the scale and complexity of their operations.
More about our Aerial Drone Photography Services.
Live Chat Virtual Tours
Our unique live chat feature enables you to have private video calls with potential clients – with you both viewing the interactive virtual tour at the same time.
This is a popular feature for owners of nursing homes as it enables them to easily give a guided tour of their facility to prospective residents and their families.
It's also popular with owners of conference centres, large hotels and exclusive wedding venues wanting to showcase facilities.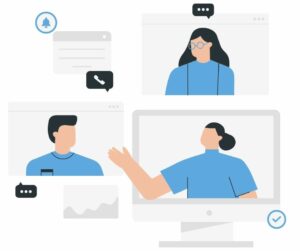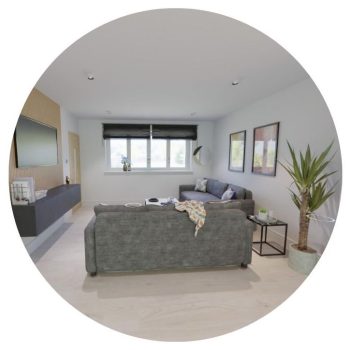 Virtual Staging within 360 Tours
We use specialist Virtual Staging software to add new elements to interiors.
Do you need to demonstrate that there's plenty of space in the master bedroom even after you've added a walk-in wardrobe?
We can help showcase the advantages of any living space.
With dozens of colour schemes, designs and a realistic appearance, virtual staging is your best friend when it comes to really bringing a space to life.
Find out more about our Virtual Staging Services.
The Power & Flexibility of Post-Production
Our 360 virtual tours go beyond just point and click.
Once we have captured the raw material – the magic really begins.
Besides adding brand colours and logos, we can add layers of interactive content and information points from simple welcome messages, to photo galleries and videos.
And we can customise all these information points, add new elements or remove them at any time – even after you've gone live.
Our post-production skills mean we're ready for anything.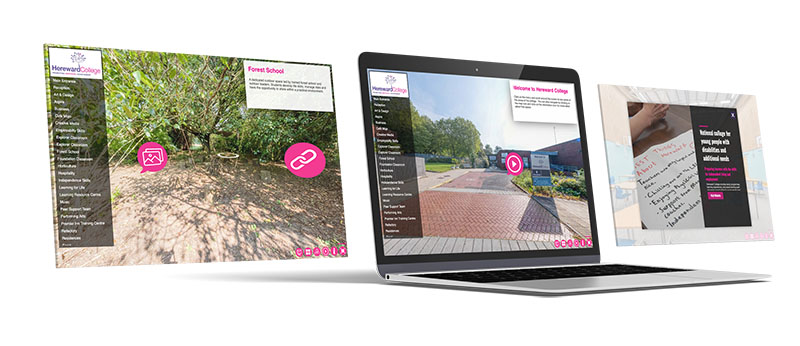 Future-Proof 360 Virtual Tours
Your business doesn't stand still.
That's why the story doesn't have to end once we've delivered the first version of your 360 VR Tour.
For many clients we continue to help them expand their virtual tours, year after year.
This usually involves going back in and adding whole new tour rooms and experiences, new videos or making text edits.
Just had a major rebrand? No problem, we can re-edit your tour, adding your new logo and brand colours.
POWERFUL, SECURE HOSTING
Due to the resolution we work at, and the coding involved in post-production, the end product involves large digital files.
That's why we host the majority of our 360 VR tours for our clients.
All you need to do is add a couple of lines of code on a page on your website.
It's as simple as embedding a YouTube video, and works with all leading CMS, including WordPress, HubSpot, Joomla, Drupal, Wix, Shopify, Squarespace and more…
Let our fast, powerful and secure servers do all the heavy lifting for you.
Are you ready to book your 360 Virtual Tour with us?
some recent 360 Virtual tour CLIENTS
Aston Martin, Formula One Marquee at Silverstone
Working to a tight schedule on a scorching hot day we had a limited window to capture all the content we needed for a full walk-through, as well as footage to create a short promotional video.
Take a look at our Aston Martin 360 Video Tour.
Sanders Senior Living, Graysford Hall
At Graysford Hall, Leicester we captured a 360 Virtual Tour of the showrooms, and communal spaces including a bar, a Beauty & Therapy salon and a cinema.
Take a look at our Sanders Senior Living 360 Virtual Tour.
Pro or Essential – It's Your Choice
We also offer an 'Essential' version of our 360 virtual tours – they have exactly the same functionality, just at a lower definition.
They are a really great way to showcase your business or property and are popular with businesses who need a large number of individual tours, regularly.