Blenheim Palace – Case Study
CORPORATE AERIAL PHOTOGRAPHY AND DRONE FOOTAGE
For over 20 years,  Fews Marquees have been providing temporary structures across the UK and Europe to support a myriad of projects. They have a reputation for innovative solutions, continued investment in the latest technologies, and a total commitment to service and ensuring that everything is in place, as specified, on time.
Fews brings to market a range of high-quality temporary buildings for studio and location use whether sound stages, dressing rooms, catering, temporary warehousing & storage, and much more.
Based in Worcestershire, they are perfectly positioned to service the film and TV production industry across the UK, and offer a personal service, free site visits and fast response times.
Our client had four large white marquees with an extension, built onset at Blenheim Palace for a period drama film shoot. 
The brief was to capture immersive aerial photography, drone footage, a virtual tour, internal still photography and create a video. So when we create digital content for our clients we will  present a stunning visual story for them to use on their website to highlight their services.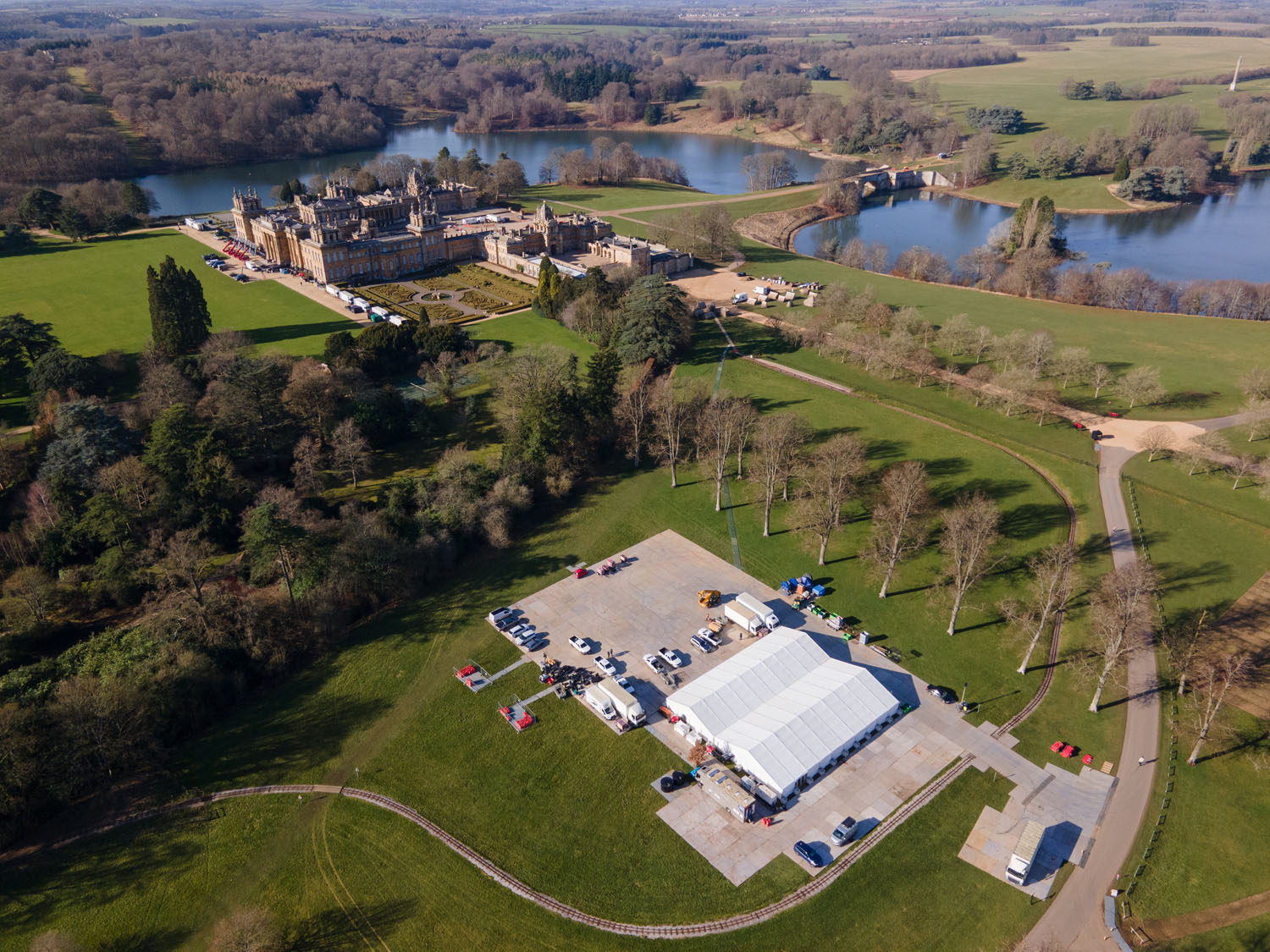 Capturing the arrival of branded transport lorries, safety procedure snippets, through to internal drone positioning and filming within the tents themselves every angle and position is considered.
Luckily for us the weather was kind and we had blue skies and sunshine, which is always a welcome when using a drone. Our CAA photographer expertly took our drone to the sky and captured images and footage showcasing the vast and unique location set for our clients. Although on less agreeable days we have created a whole online library of beautiful skies which we are able to access to improve the outdoor effect of your content. 
The internal drone operation throughout the makeup marquee required expert skill and a steady hand. Flying an UAV within limited air space can be a challenge, which our photographer handled as expertly as he would with all of our projects. We are able to find the best solutions for any issues that may arise after the shoot. In this case study, we updated the client's branding on the transport lorries and aerial photography. Completed in post edit which brings the clients branding inline with current strategy to maintain consistency. We can also add in rollover call out boxes to aerial photography, which can give additional text box and internal shots with information to specific work areas. All of which help to showcase the detail of the temporary build and quality of the project overall. 
The business impact of this investment in digital online content is that potential new clients are able to view historical and current projects with a clear visualisation of what their project could look like. Offering this immersive outlook on a project will increase the amount of sales leads, either from new prospective business or an effective way to maintain current clients. 
Our expert team at Soft-Focus can help you do just that. Reach out, and let's market your business like never before. Contact us here for more information
Corporate Video Production
Corporate and aerial Photography